I chatted with my friend Councilman Bill Peduto about the election outcome and congratulating him. The Burghosphere has been bursting with analysis of the Peduto impact — the Pedutocrats.
Here's what Bill had to say about it all (I refer to him as Bill on account of us being friends n'at.):
"Thanks, Sue – but it wasn't me – it was a few hundred activist Democrats (the lifeblood of our party) that never stopped campaigning after my announcement. They went to work for Bruce, Patrick, Heather and some to Brenda. Interesting to watch my friend Michael Nutter's victory in Philadelphia against the machine and the coming of age of the independent, progressive, reform democrats in Pittsburgh. Interesting times, indeed."
I don't have anything to add. Good night to all.
**********************************************
This blog proudly built by snowflakes, social justice warriors, and the politically correct.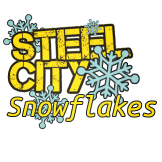 Join the Steel City Snowflakes with a one time or recurring investment in our projects.  Click the image  to see our current snowflakes.
Follow us on Twitter @Pghlesbian24
This post and/or others may contain affiliate links. Your purchase through these links support our work. You are under no obligation to make a purchase.