Shout out to all the Pittsburgh Episcopalians who have supported the Grand PooBah of Intolerance, Bishop Duncan and his desire to break away to form his own sect. We've covered his longstanding attachment to Nigerian Archbishop Peter Akinola.
Well you should be congratuled b/c your bigotry and anti-gay sentiment have built a direct bridge to the impending misery of gay individuals and families throughout Nigeria. Not only will they be prohibited from attending church to taint your sanctimonious little Christian family values, they will be prohibited from … well, pretty much existing (365gay.com).
Legislation that would strip gays and lesbians of all civil rights has passed its final hurdle and is set for a vote in Nigeria's Parliament.

The bill started out as a ban on same-sex marriage and has been revised to make it a crime for more than two gay people to be in the same venue at the same time.

It prohibits LGBT social or civil rights groups from forming. It would be illegal to sell or rent property to same-sex couples, watch a gay film or video, visit an LGBT web site, or express same-sex love in a letter to one's partner.

The legislation goes so far as to make it a criminal offense to impart information of HIV/AIDS to gays or for non-gays to meet with any group of gays for any purpose.

The penalty would be five years in prison with hard labor.

Gay sex already is illegal in Nigeria with sentences up to 14 years behind bars. In the mostly Islamic north homosexuality can be punishable by death.
This is the slippery slope we tread around here in America. Those of you who believe second-class citizenship is good enough for homosexuals open the door to the kind of oppression listed above. I know some of you harbor in your hearts the notion that "gay sex" probably deserves punishment, but can you really say two gay people being in the same place at the same time should result in imprisonment?
This is a human rights travesty of immense proportions. And here in Pittsburgh, just find your nearest Episcopalian Duncan-loyalist and say "Thanks!"
**********************************************
This blog proudly built by snowflakes, social justice warriors, and the politically correct.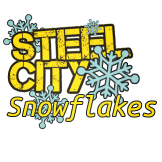 Join the Steel City Snowflakes with a one time or recurring investment in our projects.  Click the image  to see our current snowflakes.
Follow us on Twitter @Pghlesbian24
This post and/or others may contain affiliate links. Your purchase through these links support our work. You are under no obligation to make a purchase.