Marlene Lott of Butler County picked up her pen to share her thoughts on gay marriage with the readers of the Post-Gazette.
I want my grandchildren to know that their grandmother did what she could to leave a wholesome America for them to live in.
Ms. Lott trots out the same tired old connections between same-sex marriage and polygamy and/or close-kin marriage. However, her next line of reasoning is the most interesting.
Some say that those of us who believe this are not tolerant. Please know that God is not tolerant! God will not say that if you are doing something wrong that it's all right with Him. He does say He loves you and He forgives you and tells you to "Go and sin no more".
God is not tolerant.
What Ms. Lott doesn't spell out is that in her mind, God is not tolerant of anyone who is not a white, heterosexual, Christian-American. That's her definition of "wholesome" – a throwback to the good old days when homos were in the closet, minorities knew their place and everyone believed in Mom and Applie Pie. In other words, she wants to live in a land governed by 1950's television standards and The 700 Club.
She even uses the code phrase "traditional family" which doesn't gel with most of the families I know — single parents, blended families, grandparents raising grandchildren, transracial adoptions, mixed religion partnerships, etc. Many of whom are practicing Christians.
Ms. Lott is a bigot and she put that out there for the entire region to read. What's worse, she believes that God is a bigot and instills that value in her grandchildren. Grandchildren who are probably growing up in a school district that is predominantly white and filled with children whose parents fled racially diverse neighbhorhoods for the so-called safety of suburbs.
How very wholesome.
**********************************************
This blog proudly built by snowflakes, social justice warriors, and the politically correct.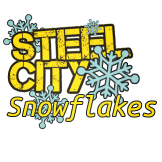 Join the Steel City Snowflakes with a one time or recurring investment in our projects.  Click the image  to see our current snowflakes.
Follow us on Twitter @Pghlesbian24
This post and/or others may contain affiliate links. Your purchase through these links support our work. You are under no obligation to make a purchase.