The PG is all queered up this week ….
L.A. Johnson takes a look at a recent New York Times piece lauding Pittsburgh as more gay friendly than Manhattan.
The NYT author cites our thriving arts scene, affordable housing and high-profile LGBT events.
Several local LGBT leaders weigh in with some skepticism that we are more gay friendly than New York City but citing the progress Pittsburgh has made overall.
---
Alice Greene, who deals with GLBT youth as a board member of the local Gay, Lesbian and Straight Education Network, says Pittsburgh can be a mixed bag.
"It's fairly easy to find community and there are a handful of relatively high-profile events throughout the year that are positive and bring the gay community together, but there are still an awful lot of closeted gay people and closeted leaders in Pittsburgh," she says. "There's still this parochialism that raises its ugly head with real frequency. … If you're out and proud, it's a good place, but if you're scared, any place is scary, including Pittsburgh."
---
I'd agree with Alice. There is a lot of LGBT activity here in Pittsburgh, but its still Pittsburgh – a very parochial community. When I moved back to West Mifflin, I suspected that people tolerated my homosexuality because I was one of them (born and bred so to speak). Whereas a gay couple moving into the community would have been less well-received.
Our experience this past weekend in Seven Springs gave me a little dose of that.
As I tell John McIntire all the time, Pittsburgh is a good place to be gay.
**********************************************
This blog proudly built by snowflakes, social justice warriors, and the politically correct.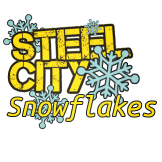 Join the Steel City Snowflakes with a one time or recurring investment in our projects.  Click the image  to see our current snowflakes.
Follow us on Twitter @Pghlesbian24
This post and/or others may contain affiliate links. Your purchase through these links support our work. You are under no obligation to make a purchase.