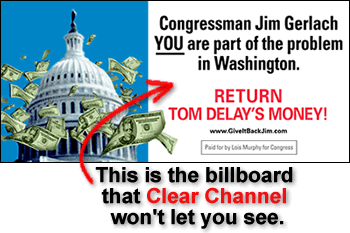 From Progressive PA Politics ….
SHAME! Part III. Clear Channel won't run anti-Gerlach billboard.March 16, 2006Speaking of limiting democracy, Clear Channel won't let supporters of Lois Murphy (D) to
advertise on their billboards in the 6th CD. Clear Channel, which owns most of the
billboards in the district, says they won't run a billboard (see above) that links incumbent
Jim Gerlach (R) to Tom DeLay and asks Gerlach to return the money DeLay gave to
Gerlach's campaign. Clear Channel, according to the Murphy campaign, refuses to run
the billboards because the billboards "might make Jim Gerlach mad."
************************************************
For 18+ years,  snowflakes, social justice warriors, and the politically correct have built this blog. Follow us on Twitter @Pghlesbian24
We need your ongoing support to maintain this archive and continue the work. Please consider becoming a patron of this blog with a recurring monthly donation or make a one-time donation.
Venmo @PghLesbian  CashApp $PghLesbian
This post and/or others may contain affiliate links. Your purchase through these links support our work. You are under no obligation to make a purchase.