I am a regular read of The Boondocks strip in the PG, but I must confess that I am often confounded. I get the feeling that I'm definitely not "in" on the real humorous element and/or the real spin on the issue. But I suppose that is how any white middle class lesbian would feel — the whole point is that I don't really get it, good intentions or not.
My take on the recent gay-marriage Boondocks strips is that he's at the older generation's discomfort with gay issues while acknowleding that its just not as big a deal with younger African-Americans. Overly simplistic?
The relationship between the gay community and the African-American community is fraught with complications. In my mind, gay rights are civil rights. I'm clearly a second class citizen in our society even as a white middle class woman. I don't have access to the basic civil institute of marriage.
Homophobia cannot be justified because it emanates from another disenfranchised group. But the same must be said for racism. I hear a lot of my sisters and brothers in the LGBT community bitching this, but then turn around and wonder why "they" don't come to local LGBT events. And have no friggin clue what they are saying.
We need to stop and think about the impact marriage discimination is going to have on more than just middle class yuppie queers. I see a lot of women, black and white, every single day who aren't in traditional marraiges and have to wonder what will happen to their families if we continue our path back to the glory days of breeder marriages. Maybe these are some of the questions the LGBT community should be tackling and building bridges over rather than focusing on our own middle class issues.
HouseBlend has some terrific stuff on this and has been following the upcoming black church summit on gay and lesbian rights.
Sue
**********************************************
This blog proudly built by snowflakes, social justice warriors, and the politically correct.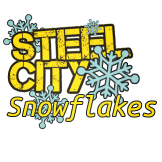 Join the Steel City Snowflakes with a one time or recurring investment in our projects.  Click the image  to see our current snowflakes.
Follow us on Twitter @Pghlesbian24
This post and/or others may contain affiliate links. Your purchase through these links support our work. You are under no obligation to make a purchase.