—– Original Message —–
Sent: Thursday, January 12, 2006 9:51 PM
Subject: Town Meeting: PA Constitutional Amendment
An amendment to the PA constitution has been proposed that would both limit marriage to one man and one woman and deny all unmarried partners a status "substantially equivalent" to marriage. The purpose of this meeting is to present what we currently know to the community, and begin to organize to defeat this amendment.
When: January 18, 2006
Where: GLCC in Squirrel Hill
Time: 7PM
Prior to this meeting, we urge interested people to take any or all of the following actions:
1) sign the petitions against the amendment being circulated by several volunteers or online at
http://www.steel-city.org/marriagepetition.php
2) call your state legislator and urge them to *not* cosponsor the amendment. You can find the name and contact information for your legislator at http://www.legis.state.pa.us/
3) set up a visit with your legislator in his/her home office. Information on setting up a visit with your legislator can be found at http://www.center4civilrights.org/news/docs/set_up_meeting.doc
This meeting is organized by Steel City Stonewall Democrats, working with the ACLU of PA, the Center for Lesbian and Gay Civil Rights, and the Value All Families Coalition.
**********************************************
This blog proudly built by snowflakes, social justice warriors, and the politically correct.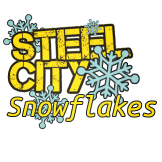 Join the Steel City Snowflakes with a one time or recurring investment in our projects.  Click the image  to see our current snowflakes.
Follow us on Twitter @Pghlesbian24
This post and/or others may contain affiliate links. Your purchase through these links support our work. You are under no obligation to make a purchase.