Please share this content.
When I joined Pinterest, I started a set of boards for my work projects and a set for my personal life. Unfortunately (???) I defaulted to work pins because it was easier. I have to take the effort to log out and back in to post to my PghLesbian boards so I rarely do it. 

Until this past month. For some reason, I switched defaults and have been making more of an effort to use Pinterest to aggressively engage people on the things that matter to me personally.
I have 25 boards. I try hard to stay a little focused and creative. I had a board for general LGBT things and a board for LGBT organizations and causes. I set up a board about women I admire, women's issues and a general board for organizations and causes I support. Just tonight, I started a board for youth oriented posts after reading about a 6th grader ostracized by his choir teacher because he uses a wheelchair. To me, that's not a "cause" – its a kid.
I pin about Pittsburgh, the Pirates and Politics. I have a board for Ledcat and another one for the woofers and kitties. Tucked away is a board called "my truth" when something resonates and a more general board for things that inspire me. Sometimes my truth isn't very inspirational, just revealing.
I occasionally toss up something from my blogging and apparently I have a movie board, but I'm not sure why.
Wow. They really add up (for perspective, I have over 35 boards for my professional life!) No wonder Pinterest is the third most popular social networking site in the world.  It certainly is impacting referrals. Something is up!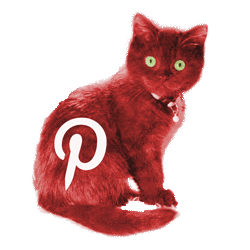 I'm not a crafter. I don't really cook. I don't fit the Pinterest stereotype – but I do like cats!
So as part of my Pinterest routine, I search for the latest pins on all things LGBTQ which requires multiples keywords. Here's what I tend to find
1. Sexy pictures of heterosexual folks that we wish were queer.
2. Lesbian pulp fiction covers.
3. Pictures of incredibly unbelievably beautiful gay men and lesbians kissing.
4. A lot of HRC merchandise.
5. Retro pins of historically queer folks.
What I don't see? Pins about other stuff that happens to involve LGBTQ people. Very rarely do I see a photo of a same sex family that's about the dog or the drapes or the matching handknit socks. I don't see many pictures of persons of color who are identifying as queer. I don't see many women and men outside of the very stylized image of being gay ie. white, thin and conventionally beautiful.
I also don't see much bashing. I can't recall ever seeing a "That So Gay" reference that wasn't clearly tongue in cheek.  So that's good. But Pinterest is literally a window into our community so I think those of us pinning need to put a little effort into making the place we "escape" to more … fabulous?
Let me know if you are on pinterest! I'll follow you and if you'd like to pin to a board I curate, let me know!  Believe me – people are paying attention!
Please share this content.
Here we are again … celebrating another year of blogging lesbian Pittsburgh. Yeah, I don't really know what that means but it seems catchy.
I was pondering the impact of my most recent year of blogging.  I haven't been consistent, but I've been paying attention even when its been a little silent around here.
Here are a few posts that seemed popular.
Blog for Equality Pgh  2011. 21 bloggers spoke out about marriage equality. Fortunately, the "marriage protection amendment" hasn't made it out of committee. Yet. Heartening how each year the number of bloggers participating in this little project of mine has grown.

Our post about The Advocate's tongue in cheek ranking of Pittsburgh as the 5th Gayest City in the nation continues to be very popular.   Yeah, I didn't realize it was tongue in cheek either until the "math" didn't add up and I contacted the publisher. They very nicely told me it was intended to be all in good fun and there was no actual science or method to the rankings. I was just relieved that the "Pride Theater Festival" isn't real. (They assured me it wasn't.) Pgh's LGBT community has gained a lot of mileage out of this. I'm not sure everyone has caught on to the joke. 

Another frequently visited post was our take on Lucille Prater-Holliday's campaign to unseat City Councilor Ricky Burgess.  BTW, he didn't support PrideFest this year either. Yeah. I'm pretty sure his team gets the joke about Pittsburgh being gay friendly. 

My wandering thoughts on the emerging lesbian social "scene" makes the list. 
Where are all of these folks coming from?
Facebook.  Infinonymous. And google. 

Interesting. NetworkedBlogs autopublishes my posts to the PghLesbian Facebook page and I occasionally post a link here and there, but it generates more visitors than any other source. The blog Infinonymous is a close second (I was "listed") and Google ranks third.

Three other local blogs drive traffic to my site – 2 Political Junkies, Angry Drunk Bureaucrat and The Pittsburgh Comet.  The Post Gazette's "Early Returns" blog also generates many of our hits (we are on their blogroll.)

Lesbian blogging is inherently political even when I'm discussing potlucks and gay cyberbullying?
What are they seeking?
The top 20 searches are some twist on the search for lesbians in Pittsburgh. Then a slew of inquiries about Pittsburgh "celebrities" who may or may not be gay, Pittsburgh community folks who are in fact LGBTQ and a lot of interesting questions about me.  

"How to get rid of bed bugs" drove more people to my site than "Adam Ravenstahl." What could that mean?
None of that is particularly deep or meaningful. What resonates the most with me continues to be the fact that the act of blogging itself  - as a lesbian – is political. My existence, my identity, my thoughts and my opinions are political because any voice from the second class citizen ranks threatens the status quo. That's a lot of power.
I also find the role of social media forms beyond blogging to be interesting. I use Facebook A LOT to toss out ideas, stories and links I might otherwise highlight and explore on my blog. So while my blogging decreased, my social media presence was amplified as I explored Google+, YouTube, Chime.In and beyond.  I just joined Pinterest this week, in fact.
Our biggest change this year was our migration from Blogware to WordPress. I'm enjoying the new layout and still learning my way around the widgets and plugins. I haven't crashed the site yet!
All in all, six years is an interesting juncture. We aren't the oldest LGBT blog (Jason Cable has that honor) in this region, but we've certainly carved out a unique little niche.
Thanks for reading!
Please share this content.