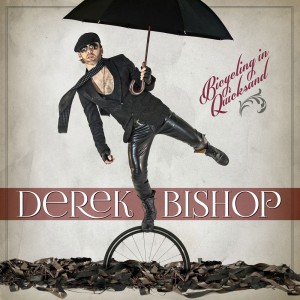 Enter to win Bicycling in Quicksand from Derek Bishop!
Derek Bishop is an openly gay singer-singwriter  with an electro-pop sound with a 60s/70s vibe. This album is fun and a little trippy, upbeat and self-aware without being incessantly electronica.
Bicycling In Quicksand
the brand-new album from out artist
DEREK BISHOP
Featuring "Baggage" and "Shutting Down"
"As brave as he is charming…fearless and different" – Larry Flick, Sirius
Bicycling In Quicksand will be Available April 7! Pre-order now:
iTunes: https://itunes.apple.com/us/album/bicycling-in-quicksand/id963256008
Amazon: http://www.amazon.com/Bicycling-Quicksand-Derek-Bishop/dp/B00SW67LR4
http://derekbishop.net
http://facebook.com/DerekBishopMusic
http://twitter.com/MrDerekBishop
http://instagram.com/derekbishopmusic
Enter To Win – two winners will each receive a copy of the album.
You must be 18 to win and live in the continental US.
You must no have won anything in the past 30 days from this blog.
Winner will be selected on Wednesday April 8, 2015.
Please leave a comment – Why would you like to win?