Queer Creek is a partnership of Pittsburgh Lesbian Correspondents and the Pittsburgh Current Broadcast Network. This weekly podcast explores how LGBTQIA+ experiences flow into the current of the Pittsburgh region. The podcast will cover the headlines, bring in guests, and discuss cultural relevance.
Hosts Laura Dunhoff and Sue Kerr have been collectively organizing and exploring the regional LGBTQ community for 45 years. On air and off, they move through the world together, but not always seeing eye to eye.
Laura is a native of Mercer County in Northwestern Pennsylvania. She has a B.A. in from Penn State University and a Juris Doctorate from the West Virginia University School of Law. She is a licensed attorney and has spent the past twenty years investigating employee misconduct for the City of Pittsburgh.
Sue grew up in West Mifflin. She has a B.A. in Political Science from Marymount University in Washington, D.C. and a MSW in Community Organizing from the University of Pittsburgh. Sue has over 25 years experience working in human services and with local non-profits. She is currently focused on blogging and creating art through her site, PghLesbian.com.
Laura and Sue live on Pittsburgh's Northside with their foster cats, a Chihuahua mix and enjoy exasperating their nieces and nephews on a regular basis.
**********************************************
This blog proudly built by snowflakes, social justice warriors, and the politically correct.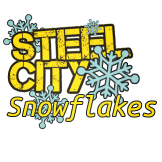 Join the Steel City Snowflakes with a one time or recurring investment in our projects.  Click the image  to see our current snowflakes.
Follow us on Twitter @Pghlesbian24