Use our exclusive discount code to save 20% on your total purchase with Etna Print Circus
---
Welcome to our newest #AMPLIFY project. This is a partnership between Pittsburgh Lesbian Correspondents and Etna Print Circus, exploring how we tell our stories through our attire.
The project was inspired by a recent experience I had where I unintentionally wore a shirt emblazoned with the word Queer on the chest to a local restaurant. I noticed some strong reactions from other diners. Truth be told, I wouldn't normally wear that shirt out to that environment so I was also having my own strong reactions. There's a whole lot to unpack there. Nothing untoward happened, but I was very conscious at those moments about my privilege as a white, cisgender, woman helping me through the discomfort.
Etna Print Circus created that shirt so I had a chat with their team about my experience and this is where we landed – a social experiment about the vulnerability of visibility. All of us make decisions every day about how much of our identity is reflected in our clothing – from the logos on the shirts to the types of clothes we wear and the consideration we give social mores. I don't presume to be a style or fashion expert (not at all), but I have been making nearly daily choices about my queer identity for over 20 years. I may carry a rainbow pride purse during Pride month with delight and enthusiasm, but when we are in the outlying communities – like the Sheetz in Lawrence County on our way to visit Laura's mother – I leave the purse in the car. And I feel the weight of that choice each time we are there.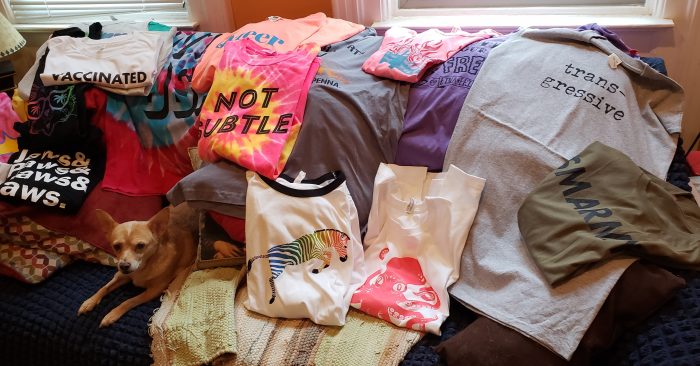 I am going to wear an array of Etna Print Circus produced tee shirts, some LGBTQ and others not, out into the world and take note of the responses. Wearing general shirts from the same printer with similar fonts and colors and designs and shirt styles acts as a sort of control to gauge everything from how comfortable the shirt is to how people are responding to the messaging.
I will wear each shirt to one predetermined queer space and one predetermined general population space as well as a few random other places that same week. Basically, I'll wear the shirt to Persad Center and then I'll also make a point to go to Eat'n Park each week during a slow time. I chose Eat n Park because it is generally LGBTQ friendly but not really what we consider a queer space. Not at all. And I'll also wear it to other places we go.
Things I'll be assessing
does anyone comment on or notice the shirt
does anyone stare or nonverbally react to the shirt
my own sense of comfort wearing the shirt
basics of how the shirt fits and feels
That list might change as the project unfolds.
I'll write a blog post each week summarizing the experiences. The folx at Etna Print Circus will also weigh in with some original essays on these topics, topics that factor into their work everyday as well as how they individually move about the world.
We'll be offering a discount code of 20% if you'd like to purchase one of the shirts we feature. The code is PghQueerStyle
#AMPLIFY is ultimately a storytelling project with multiple angles. Contributors make a choice what details of their individual stories to share. Readers choose which stories to read. Each time I venture out, I think about the stories from those contributors and their commitment to vulnerability in order to help you and other readers better understand the experiences of queer identity in Western Pennsylvania. I also think about how I share my own identities by what I wear and how I wear it.
---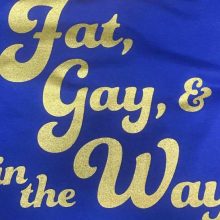 My first post in this series is actually for the Pittsburgh Current, a column about the 'Fat, Gay & in the Way' shirt as it relates to growing up without reliable food supplies. If you like the shirt, you can buy it and use our 20% discount code.
This shirt empowers me and helps me to feel strong and confident. It is a comfy shirt in a nice color that holds up well after multiple launderings.
**********************************************
This blog proudly built by snowflakes, social justice warriors, and the politically correct.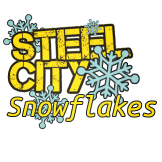 Join the Steel City Snowflakes with a one time or recurring investment in our projects.  Click the image  to see our current snowflakes.
Follow us on Twitter @Pghlesbian24