In November 2004, Sue Kerr was invited to do a guest segment on a local talk radio program under the guise of being the "unofficial" Pittsburgh Lesbian Correspondent. She did this over the course of one year and three radio stations. That's where her home became designated "Lesbian Central" and she developed an interest in these things called blogs.
By the winter of 2005, she  was hooked and created her own little blog and decided that the name Pittsburgh Lesbian Correspondents was a good fit. Expecting only her friends to read, she focused on scintillating topics like "letters to the editor" about LGBTQ topics and reporting on local LGBTQ events, from political rallies to comedy shows.
She soon realized that writing about the lesbian experience – no matter the topic – was unique and in fact political. So she joined the ranks of political bloggers whilst remaining true to topics like cats, soap operas and generalized rants.
As time went on, the blog featured a range of guest bloggers – from Kevin Acklin to Heather Arnet to Bram Reichbaum and … Ledcat. The Correspondents traveled to DC for a weekend conference of "citizen journalists" and later participated in Netroots Nation. Sue as asked to contribute to other groups blogs.
We've taken breaks. We've always come back because there are stories untold and voices not heard and issues unaddressed. The advent of Facebook and Twitter diffused blogging as Sue opted not to write a post about each topic, instead promoting links to other reputable sites.
In 2012, Sue decided that the blog needed an infusion of new points of view. She invited Trish Mifflin to join the team. Ledcat became more active, Then Jen Tyrrell from nearby Bridgeport, OH joined us.
In 2014, we teamed up with Most Wanted Fine Art to explore the 'art of blogging' and launched the #AMPLIFY project in 2015.
The blog theme was redesigned and new opportunities await. Sue maintains that we are a political blog simply because the act of speaking out as an LGBTQ person is a political act, no matter the topic. So together we continue to explore life in the tri-state area as a team.
Some blog highlights
First live blogging of a City Council hearing (2006)
First live tweeting of a County Council hearing (2009)
Represented Western Pennsylvania at the first national LGBT bloggers convening (2009)
Invited to contributie to Bilerico, the nation's largest LGBT group blogging site (2010)
Represented Western Pennsylvania at Netroots Nation LGBT Connect (2012)
Named "Favorite GLBT Media Publication"  by Keystone Alliance Gaylife Newsletter (2012, 2015, 2016)
Named "Favorite GLBT Social Media" by Keystone Alliance Gaylife Newsletter (2013, 2014, 2015)
Invited to serve on national LGBT Connect Planning Committee for Netroots Nation (2013)
Invited to represent Western PA at the 4th Annual LGBTQ Social Media Convening sponsored by the National Association of LGBT Journalists (2013)
Expanded blog contributors beyond self-identified lesbians to diversify our team (2012)
**********************************************
This blog proudly built by snowflakes, social justice warriors, and the politically correct.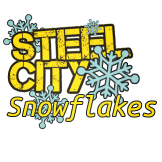 Join the Steel City Snowflakes with a one time or recurring investment in our projects.  Click the image  to see our current snowflakes.
Follow us on Twitter @Pghlesbian24
This post and/or others may contain affiliate links. Your purchase through these links support our work. You are under no obligation to make a purchase.