So we did a thing on Groundhog's Day …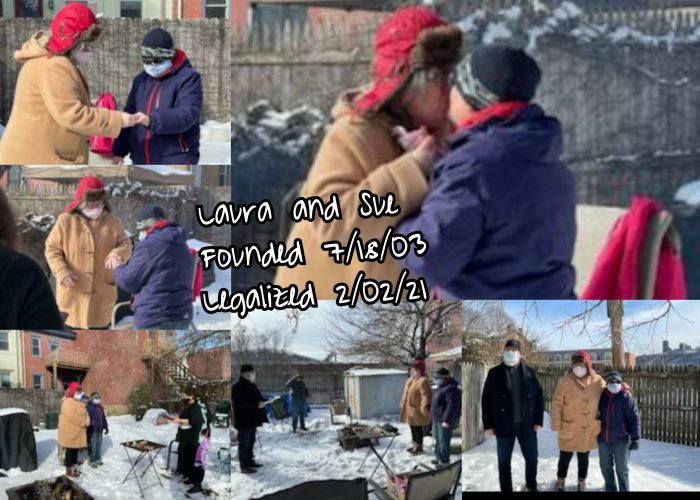 Yes, Laura and I were married this afternoon in our backyard in the middle of the winter (and a snowstorm) during a pandemic. We had three friends witness and our officiant present. Our officiant, Anne, is a Pagan priestess and also a reverend. And a friend, so that's four friends. Plus, oh Mayor Peduto came by to help officiate after we discovered a very weird loophole in state law around officiants, but we'll save that story for another day. Lt. Governor John Fetterman and local magistrate Derwin Rushing also offered to help so that's a political bloggers wedding for you. The City Paper sent their photographer. Definitely a political bloggers wedding.
Thank you to Anne, Sarah, Sarah, Kate, Mayor Peduto, and Jared for helping us pull this off.
Our love story started nearly 18 years ago in a very meet-cute moment at the LGBTQ Community Center in Pittsburgh where we both attended a woman's discussion group. The group didn't last a month, but – we did! Two years later, we moved in together and have walked through life hand-in-hand ever since.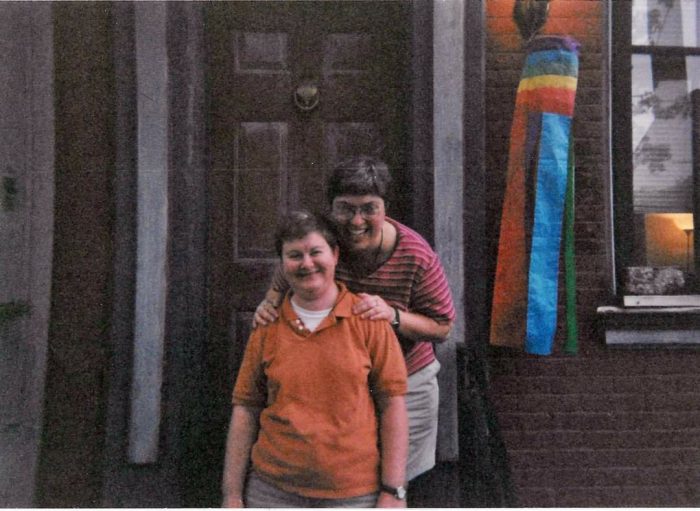 So it seems fitting that this next chapter in our romance has it's own unique story elements – Laura chose Groundhog's Day so it would be easy to remember, but it also happens to be the Pagan festival of Imholc also known as Candlemas or St. Brigid Day. This is a Northern European agrarian holiday that masks the halfway point between the winter and summer solstice. It is like a promise of better days, urging us to look ahead to when the sun returns. Laura and I are both almost 100% descended from Northern European and British Isles places. And we have a mama groundhog living under our deck.
She didn't make an appearance.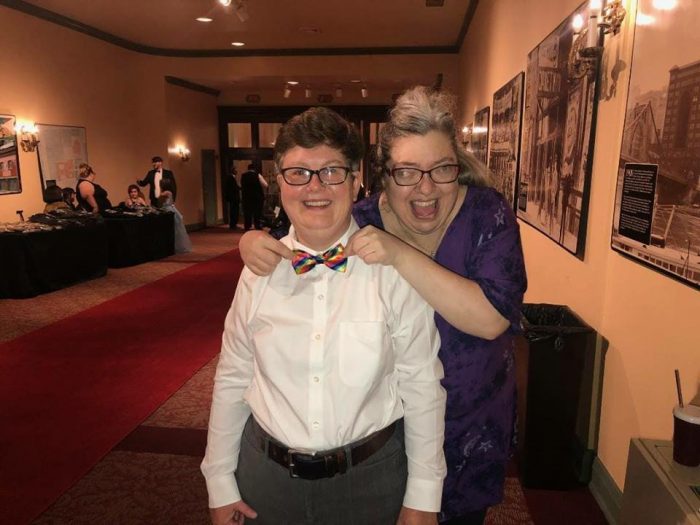 The Wedding Gown!
The brides wore their heaviest coats, gloves, and hats handmade by friends. We did have a coture moment thanks to local designer and family friend Suz Pisano who customized face masks for the wedding party. Our reception aka Sue and Laura's dinner was catered by Bistro to Go and family friend Nikki Heckman. We had wedding cupcakes and hot cider. Because there is no way we were going into a jewelry store, we opted for cat cameo rings custom made by Pittsburgh based Ragtrader Vintage. Yes, we got cat cameo rings until we can safely select permanent rings.
Sarah lit a fire in our fire pit to help keep us warm, the sun was shining bright, and our feral cats Oksana and Mx. Pajamas made an appearance.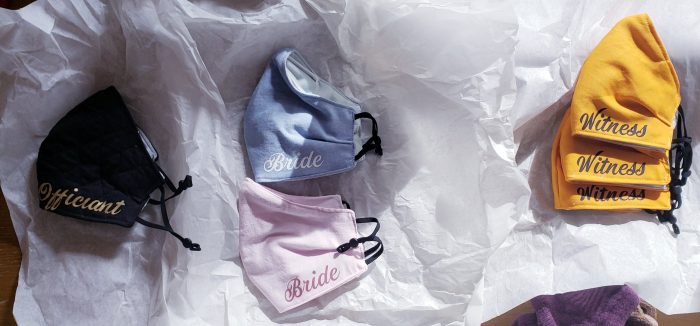 It was perfect.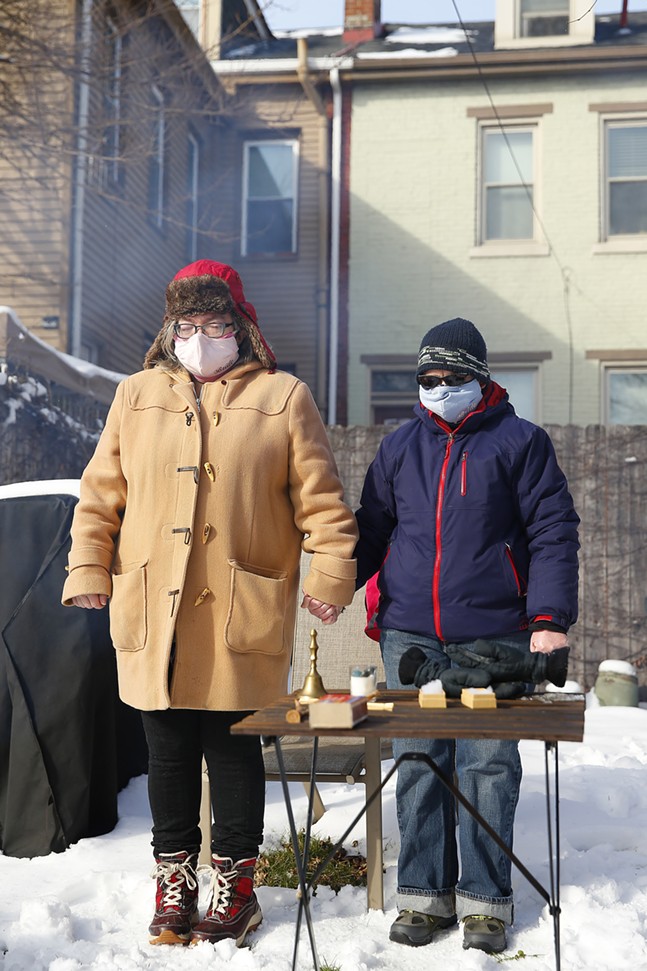 Perhaps when life is good again, we'll have a traditional reception and celebrate this ongoing happy occasion with our friends and family. But we know that won't be until at least 2022, so for now we'll have leftover cupcakes and continue doing our best to endure this pandemic with grace and love.
We were so fortunate to have the Pittsburgh City Paper profile our wedding – Scenes from a longterm Pittsburgh couple's backyard pandemic wedding
Nope, we aren't changing our names. No plans for babies. Yes, we'll keep fostering cats.
Thank you for your good wishes.
♥♥♥♥♥♥♥♥♥♥♥♥♥♥♥♥♥♥♥♥♥♥♥♥♥♥♥♥♥♥♥♥♥♥♥♥♥♥♥♥♥♥♥♥♥♥♥♥♥♥♥♥♥♥♥♥♥♥
Registry!
Sue and Laura are registered at Bed, Bath, and Beyond and Amazon (cat lady gear) and Target.
Cookie Table!
Oh, hey, we didn't forget about the time-honored tradition of the Pittsburgh cookie table. Obviously, we cannot have one in real-time, so we've decided to ask those who would have contributed to that table to instead donate cookies to our Northside Community Food Pantry, a cause that is very dear to us. Everyone deserves cookies so we set up a list that will ship directly to the pantry.
Donations!
We also encourage those who can to make a donation to the Food Pantry or to Three Rivers Community Foundation, a vital agent of progressive values in this region.
Finally, you can use our Steel City Snowflakes tool to share a message with us or our readers or the larger LGBTQIA+ community.

**********************************************
This blog proudly built by snowflakes, social justice warriors, and the politically correct.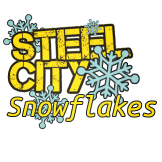 Join the Steel City Snowflakes with a one time or recurring investment in our projects.  Click the image  to see our current snowflakes.
Follow us on Twitter @Pghlesbian24
This post and/or others may contain affiliate links. Your purchase through these links support our work. You are under no obligation to make a purchase.