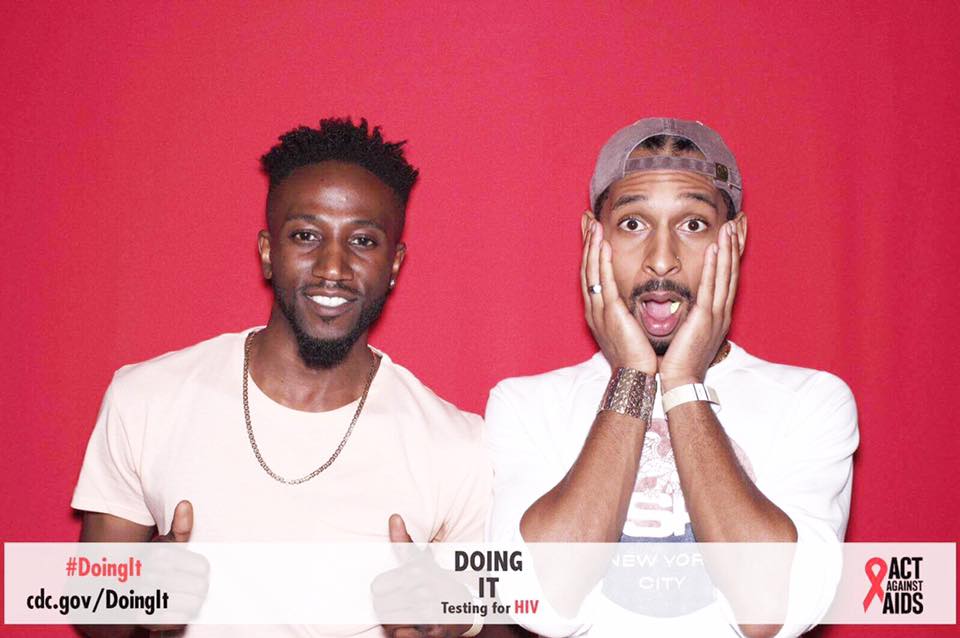 True T Entertainment  celebrates Queer People of Color through Creative Art, Entertainment, Resource Sharing, and Activism. To honor the work of this organization & acknowledge their contributions to LGBT History, we interviewed co-founders Naheen Cavallleri and John Easter.  You can also check out Naheen's AMPLIFY Q&A.
October is LGBT History Month. I've asked several people to share their thoughts on regional historical events that left an impression on them. Some contributors are LGBTQ, some are allies. All are people I think you will enjoy hearing from this month. If you would like to submit a guest post, please click here.
Your name: Naheen Cavalleri 
Your pronouns: He/Him/His
How do you describe your identity? Black Queer Male
Your name: John Easter
Your pronouns: He Him
How do you describe your identity? I identify as a 2 spirited black gay male
October is LGBT History Month. What is the history of the Galaxy Ball? 
Naheen – The Annual Galaxy Ball Series originally began in 2012 in collaboration with the Pittsburgh AIDS Task Force and the local Pittsburgh Ballroom Leaders to raise awareness around the rising HIV/AIDS rates in Pittsburgh and abroad. This interactive event evokes high energy, alongside historical ballroom culture, where the most creative of the creative come together for one night only, battling for trophies, cash prizes, bragging rights, and fun.
The annual Galaxy Ball series celebrates the Ballroom Community, a Black and Brown LGBT underground sub-culture that for decades has been popularized by some of your favorite celebrities (example(s): Madonna, Queen Beyonce', and Tamar Braxton) . Over the course of the past four years the annual Galaxy Ball series has invested more than $25,000.00 back into our local tri-state black and brown LGBTQ Ballroom community.  
In your promotions, you mention the need to highlight the cultural experiences and health of QTPOC. What has changed since you founded True T? What is the most pressing priority today?
Naheen – Since founding True T Entertainment in 2010 one of our more pressing topics of discussion have always been around HIV/AIDS and STI Prevention and Awareness as well as educating our "mainstream" communities with knowledge around LGBT People of Color and our Ballroom culture.
I can say that since our start we have been successful in better linking our local LGBTQIA community to meaningful everyday life resources through partnerships with organizations such as Kelly Strayhorn Theater (providing accessible, diverse, and inclusive opportunities to learn and explore a variety of disciplines in art), The Pittsburgh AIDS Task Force, allows us to link our community members with FREE and Confidential HIV/AIDS and/or STI testing, Persad Center provides amazing services around mental health issues which is something extremely relevant and pressing especially in todays LGBTQIA POC communities, as well as collaborations with Project Silk, Garden of Peace Project, New Voices Pittsburgh, Dreams of Hope, BOOM Concepts, and an assortment of other supportive LGBTQ friendly organizations doing great things around the city that align with the Mission and Vision of True T Pittsburgh.
One issue that remains the same is that while our community continues to educate themselves and learn about the resource pool here in Pittsburgh, our youth are beginning to feel like they are nothing more than statistics to many of our local health organizations, as most orgs do not take the proper time to build relationships causing community members to lose trust and avoid these organizations.
I would say one of our more pressing issues today would be the lack of Black owned Queer spaces in the city that would allow for our LGBTQ POC to feel like they have something specifically designed for them. Though there are organizations that provide safe space for LGBTQIA POC, they are generally not owned by POC and focus their efforts to the white LGBTQ community more so.  
John – Since the inception of True T the landscape of the lives of LGBTQIA+ people have changed significantly. This community has persevered through American bigotry, regressive politics, equality, and discrimination on every level. The product of today's world under the current presidency is a radical reaction to President Barak Obama's legacy. More specifically, LGBTQIA+ POC have had the double burden of taking on African American issues as well as LGBTQIA+ issues. Social media and news outlets place trauma in our face every day and it has become so normalized to our community. Throughout these negatives there have been positive changes such as having more opportunities to display our talents and utilize our skills in an effective way to put positive energy back into the world around us. The strongest change since the inception of True T is the "voice of the people" being able to change national and international conversations through social media.
You mention QTPOC being disconnected and under resourced. In the past five years, we've seen the growth of organizations led by QTPOC including Garden of Peace, SisTers Pgh, New Voices Pittsburgh, and others. I haven't noted significant changes in the leadership of the mainstream organizations with regard to People of Color, the trans community, the bi community and so forth. What do you think the next five years will bring to this region around racial justice in the LGBTQ community? 
Naheen – In the next 5 years I would like to see more LGBTQ spaces owned by POC! I would like to see more direct support from the communities that we serve, and for members of these communities to understand that support comes in many shapes and forms! I personally understand that the majority of us are struggling; we're all looking for the next dollar which is fine, however support doesn't necessarily mean spending or donating your money, to me the most valuable form of support is by spreading the word and publically sharing the value and/or your appreciation of what is being sourced to you.
Hopefully in the next 5 years seeing a Queer or Trans Person of Color in Leadership will not be such a rare thing, and members of our community feel empowered in knowing that there is enough room for us all to succeed by simply supporting those that support you.  
John – Over the next 5 years I see race to be 1 of the most important issues that the Pittsburgh LGBTQIA+ community will face. I believe that the divide between "white gay" and "black gay" will continue to grow. I believe that black leadership will reach new heights within the next 5 years with many different POC organizations collaborating and standing in solidarity with each other. I believe that certain white cis-gender gay male centered spaces will have to change the culture of their business in order to be inclusive of black people. Over the next 5 years we will see more LGBTQIA+ POC creating, organizing, establishing businesses, and hosting large events. In the next 5 years there will be several spaces created, owned, and operated by LGBTQIA+ POC.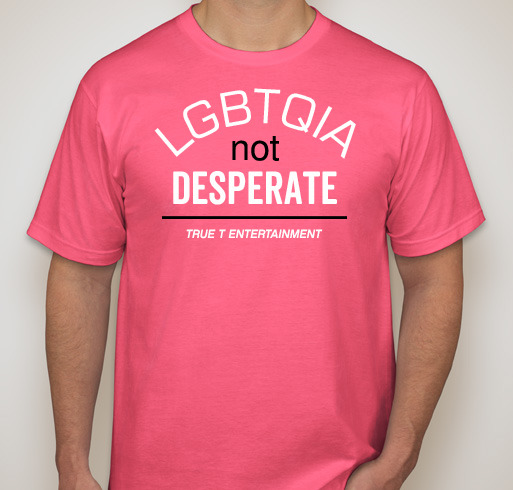 True T is selling T shirts to fundraise for the 5th Annual Galaxy Ball. What does "LGBTQIA not DESPERATE" reference? 
Naheen – When we came up with the slogan "LGBTQIA not DESPERATE", John and I were in the midst of a creative brain storming exercise in which we recapped various negative happenings in the LGBTQ POC community, including the many lives of Black Trans Women that have been lost already in 2017, as well as various "unpublicized" feuds within the world of Non-Profit around funding, and our general day-to-day experience as Black Queer men when interacting with our heterosexual counter parts through work or just random encounters.
In the end we were left with the question… "Why?"….
Why do the "TRADE" attack and kill our Trans Women of Color as if their lives mean nothing?

Why is it so difficult to find genuine support as an active Non-Profit Organization doing positive work for the greater good of a community that we also are apart of?

Why do heterosexual men assume that every LGBTQ person is physically attracted to them?
Our conclusion was that these people must think we're desperate… and that is one thing our LGBTQ community is not! To unapologetically identify as any of the acronyms under the LGBTQ umbrella makes you such a STRONG and BOLD person. It is not easy being queer… but it's even more difficult being queer and black in America as you're already battling a double edge sword.
We want to show our respect and support for the many strong and game changing creative that this community has to offer by saying loud that yes… we might identify as lesbian, gay, bisexual, transgender, or queer… but that does NOT mean that we have to lower our standards for love… for acceptance… for money… or respect!
John – LGBTQIA not desperate is basically a phrase that suggest that just because we are gay, trans, bi, etc. we are NOT desperate for love. We are not here just to be tolerated. We are not fetishes. We are LGBTQIA and we are not desperate for your love.
Treatment options for STIs can be very effective in saving lives as we are seeing with the effectiveness of PrEP for HIV, but other STI rates are increasing – especially gonorrhea and syphillis, both within and beyond the LGBTQ communities. I've made a commitment to bring at least one sexual health educator to all events I organize b/c I suspect that people I know feel complacent. What specifically can we do better as a community? 
Naheen – It is very important to educate our community, especially our youth, as they are the next generation to carry the torch of the current available resources in protecting and keeping up with their sexual and general health. – True T Entertainment has been committed to this since our inception nearly 8 years ago.
There are quite a few great resources around the City of Pittsburgh, but the issue often comes down to communities feeling underrepresented at this organizations. As a Queer Person of Color, my life experience is obviously much different than a White Queer person. – If I am looking for Mental health counseling, but the only available therapist are middle aged white women whom have never walked a day in the shoes of a queer person of color to relate or understand their struggles… I see that as a problem.
When organizations who's efforts rarely see them benefiting LGBTQ POC suddenly begin to host random events geared towards POC with "Free Entry with an HIV/AIDS test" that is a problem. Like our True T-shirt says We are "LGBTQIA not DESPERATE"… nor dumb. People are hip to the game at this point and understand that the majority of these larger LGBTQIA Organizations are solely focused on advancing their funding opportunities through work in the POC communities because that's where the majority of available funding lives in the non-profit health sector. –  Be genuine about your help!
John – As far as STI's, as a community we need to educate each other more on the statistics and information of Syphilis and Gonorrhea. We are so used to shoving HIV/AIDS information down people's throats, we forget it is easier to contract these other diseases. A campaign or quirky catchphrase that can be disseminated in the community for people to remind people that contracting 1 of these STI's is easy and possibly motivate them to make safe choices.
We've lost at least six QTPOC to violent deaths in this region since 2014. The community never discusses this and there's rarely any opportunity to grieve collectively. I suspect this is tied to the disconnect you mention. How do we connect to honor the lives and deaths of our LGBTQ neighbors, and work to reduce violence? 
John –  I feel that to properly address and knowledge those who have passed in our community we need a central "community page". Possibly operated by different organizations. We should create a space for our community online. A place that holds all of the "gay news". We can start recognizing community members, organizations, weddings, deaths, etc. We also need a GAY LESBIAN CENTER. That is missing in Pittsburgh. A central location. Violence can be minimized by leaders within the community stepping up and actively leading. There are a lot of young kids who needs mentored but there aren't any programs for LGBTQIA+ youth of color.
Historically speaking, whose story do you think LGBTQ folks should be learning about and why? 
Naheen – I'm not sure how to answer this question because I do believe that person has a story, and every story should matter. However I do believe that until as recent as 2015, the discussion around Trans people, especially those of color was a foreign discussion. Even during the movement of "Equal Rights" and "Same Sex Marriage" somehow it always feels as if our trans brothers and sisters are overlooked and/or forgotten.
I think it is important for more people to educate themselves around Trans issues, understanding that they too are a part of this LGBTQIA umbrella, and that they face almost double the issues that we as gay or bisexual people do.
John – Historically, residents of Pittsburgh should definitely learn about all of local LGBTQ figures. I believe that trans woman from the Stonewall Riots should be learned. I don't know too much LGBTQ history of black people, so that is very important to me. To learn historical black gay men who have amazing stories.
As a white cis lesbian, I've never been to a ball and feel like I'd be intruding in a space that's not designed for me. How do we continue supporting safe spaces for QTPOC in Pittsburgh as white allies? 
Naheen –  When the underground ballroom scene was created roughly in the 1960's – 1970's, it was designed with the idea that this would be a safe space for blac and brown LGBTQ folks to come together as a family and showcase their artistic talents. Ballroom has become our version of Hollywood, and as the times of the world change, so does ballroom. – Today many of our favorite celebrities take bits and pieces of our culture without crediting our community, which is where the majority of the problem lies. If you have someone as bi as Beyonce using language that was created from some underground person that is probably a lot less known than she, the world is forced to believe Beyonce created this language unless Beyonce publically states where she was inspired from.
Todays ballroom community has become pretty mainstream as of late and looks to continue to grow bigger and bigger. Ballroom is a lot more diverse in today's day and age and sees many colors in skin tones participating. It is ok to support, and admire, and/or participate with the community. It is not ok to appropriate and take from our culture without properly crediting.
As I mentioned before, support comes in many shapes and forms, you can support by helping to spread the word and educating yourself and others, donating to a cause you believe in, and/or by physically being present and building relationships with members of the ballroom community
John – As an ally, support can come in many ways. Those members of the community who have a platform to reach groups of people can support by helping promote events or causes. Giving monetarily to local grass roots organizations. Donating to those organizations who are already doing the work and who have exhibited great strides for LGBTQIA+ POC within Pittsburgh. You can always contact the organizers of any event and ask how you can be involved if you feel uncomfortable. Having casual open discussion with individuals to understand different point of views and bringing back this knowledge to the community around you. Most importantly, use your privilege as a weapon to help make progress for LGBTQIA+ POC.
Is there anything else you'd like to share in the context of LGBTQ History Month? 
Naheen – I thank you very much for your support of True T Entertainment and appreciate the great work that you do for our LGBTQ community at whole.
In closing I would just like to remind us all that we live in a big world estimated to currently house over 326,474,013 in America in 2017, with over 27 million entrepreneurs. – There is enough space and opportunity for more than one of us to succeed. It is especially important that we as LGBTQIA folk start to come together and support those that support us. We have got to stop just accepting what is handed to us and demand the respect and resources that we as red-blooded humans deserve. LGBTQIA people are NOT a circus act and I personally refuse to be treated as such
In the next 5 years I would love to see more meaningful collaborations between LGBTQ Organizations and our Ally orgs. We need to not only educate our community but also those outside of the LGBTQIA spectrum so that 10 years from now, this isn't still so "new" to the world and perhaps one day we can all truly learn to co-exist.
John – I would just like to say that in the Pittsburgh LGBTQIA+ community there are many black founded and operated organizations, groups, and nonprofits. We are creating history as we speak and working together will be our strongest asset.
Thank you, Naheen and John.
Follow True T Entertainment on Facebook and Twitter
Purchase your own tshirt.
---
Show your appreciation for independent blogging by investing in our work and following us on social media.
**********************************************
This blog proudly built by snowflakes, social justice warriors, and the politically correct.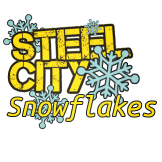 Join the Steel City Snowflakes with a one time or recurring investment in our projects.  Click the image  to see our current snowflakes.
Follow us on Twitter @Pghlesbian24
This post and/or others may contain affiliate links. Your purchase through these links support our work. You are under no obligation to make a purchase.