Tag Archives:
progressive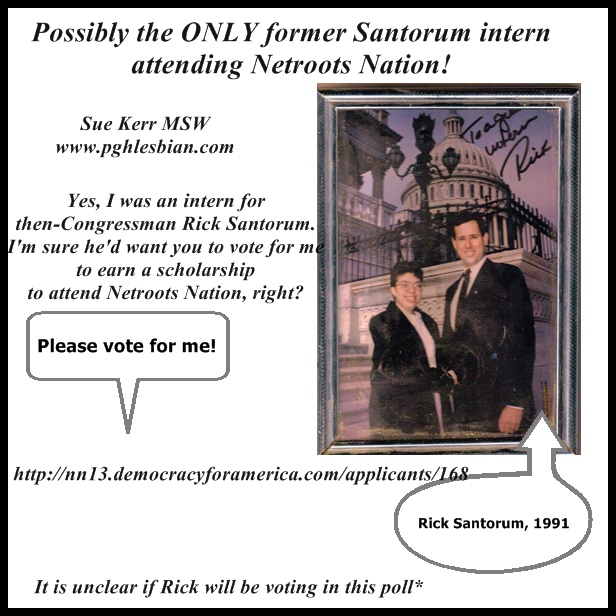 Please click to vote! 
Please share this content.
Please help me get to California for Netroots Nation 13.
What? A trip to California? 

San Jose is one of the greenest cities in the nation and NN was the first conference to donate tote bags all the way back in 2009. I really need to be there. And I need your vote to win the scholarship – I promise you I'll be talking hunger, poverty and environment (as well as LGBTQ, of course) all week.
You can vote here.
I have a partial scholarship for some of our expenses. Due to my disability, Ledcat has to go with me so I really *really* need this additional support. I'd appreciate if you could take a few minutes to click over and vote for me!
Thank you so much for your support!
Please share this content.
Caught this today:
But state House speaker Sam Smith says his immediate problem is that he must call special elections for six vacant state House seats and is stuck with an outdated map that is "so wildly out of proportion -– one person, one vote-wise, population-wise -– that I don't want to be calling special elections going forward in those districts."

Smith says he's asking the federal court to affirm his position.
As you may recall, the PA Supreme Court tossed the most recent redistricting plan because well, it sucked. Apparently, it won't be resolved to a level of acceptable sucking for awhile.
IN THE MEANTIME, here in the current 22nd District — no representative since Chelsa Wagner resigned to be the Allegheny County Controller. Now under the old-new plan the 22nd District would be dissolved and relocated to Eastern/Central PA leaving us Allegheny folks to be folded into new districts. At least count, Manchester was "alleged" to be part of at least 3 different districts. Who knows?
But the point is that we are now still the 22nd district and we are not represented. And that is wrong. It is bad enough that our former Representative set a new record in 2011 for missing votes while claiming that constituent work went on in spite of her personal plans. Now we might go until 2013 without a Representative?
That's just wrong. Nearly two years of disenfranchisement is wrong. Especially when you consider that Manchester has a significant concentration of African-American AND LGBT voters so there's a disproportionate impact on our constituencies.
This whole debacle has been a series of misguided, selfish, unethical decisions. And believe me, I'm getting a lot of "tsk tsk tsk" responses from local Dems for having the temerity to hold them to the same standard to which they hold Republicans AND socially conservative Dems. Too bad. You get two votes on statewide issue and I get one. That's inherently undemocratic and you should be HOWLING in my defense, not cowering before the potential blowback from the muckety mucks.
Don't get me wrong. I'm okay with Senator Fontana's work on our district's behalf, but that's not the same thing. Chelsa was actively co-sponsoring significant LGBT legislation, among other things. Getting positive committee action on those bills was critical to moving an equality agenda forward. So now what? We lost a vote AND steps toward equality! It just makes me so angry because the person who lent their credibility to convince me to support her in the beginning is a true progressive. So now I'm curious if that person was deceived or didn't speak out when the change became apparent or what? Who can you trust?
Oh and please stop asking me to be on host committees. I'm not a Democrat any longer. I opt out. You'll have to find another lesbian to prop up your street cred. Check the suburbs.
Please share this content.