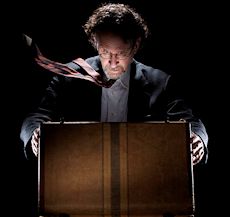 UNDERNEATH THE LINTEL
January 29, 30 & 31, 2015 @ 8:00 pm
Written by: Glen Berger
Directed by: Cameron Knight and Randy Kovitz
With: Randy Kovitz (The Librarian)
Originally staged in Pittsburgh by 12 Peers Theater  Underneath The Lintel is continuing it's Pittsburgh run in off the WALL's Repertory program.
An unnamed Dutch librarian — whom the word "mousy" doesn't even begin to describe — discovers a hundred-year-overdue book. Unable to let it go, he becomes obsessed with tracing the borrower, which sets him off on global adventure in search … a meditation on the random chaos of the universe, the utter absence of any God and the dearth of meaning — or rather, "Meaning."
The premis really intrigues me – I've been reading mysteries lately and watching several on Netflix. I think the intellectual exercise will be worthwhile.