PITTSBURGH– Local blogger Sue Kerr, editor and founder of Pittsburgh Lesbian Correspondents, the longest running LGBT blog in Southwestern Pennsylvania is honored to be named the 2012 recipient of the "Stacey Walker Memorial Award" by Keystone Alliance Gaylife Newsletter.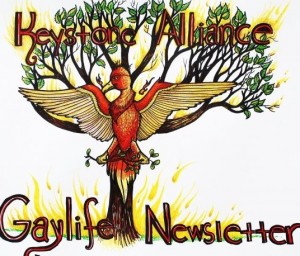 The award was established to honor the spirit of columnist and Greensburgbased drag king performer Stacey Walker. Stacy passed away in February 2009.
"Stacy always was helping people and she stood for the best things of our community," explained John DeBartola, President. "Each year we choose a recipient who shows the very best to the community and advocates for them and that [is] Sue. [She is] always trying to help raise awareness and change the community for the best so we felt [she] deserved the award."
Pittsburgh Lesbian Correspondents was also named "Favorite GLBT Media Publication" after two rounds of voting by members and readers of the newsletter. The vote was open to individuals throughoutPennsylvania,West VirginiaandOhio. This is the first year a blog has been honored for media work.  Kerr was previously named "Lesbian of the Year" in 2010.
"This is a very humbling honor – to receive both the support of the community for our blogging efforts and to be recognized as an advocate in the spirit of Stacey Walker," says Kerr.
A complete list of 2012 honorees can be found here.
Pittsburgh Lesbian Correspondents was founded in 2005 as the first lesbian led blog focusing on Pittsburghand the region. The blog is recognized regionally for its contributions to the political dialogue as well as advocacy on a range of issues that are not highlighted by mainstream media. Kerr is a contributor to the national blogging team at The Bilerico Project and has been published on Pam's House Blend, BlogHer, and DailyKos. She is also a frequently sought out commentator on LGBTQ news in thePittsburgh region. Kerr mostly recently participated in the successful effort to recruit the Pittsburgh Pirates to make a video for the "It Gets Better" project.
The mission of the Keystone Alliance/Gaylife Newsletter as a population of different people and perspectives,  is to aspire to promote the growth of all people in their lives. GLBT members of the community and their allies join together to create an organization where people exchange ideas, listen to one another with consideration and respect, and are committed to fostering civility. As members of the GLBT community and others, the organization strives to achieve the following individual commitments: 1. To strengthen the community; 2. To foster an environment for personal growth, to be helpful to others and respect their rights. We will discourage intolerance, hatred, and injustice, and promote constructive resolution of conflict; 3. To contribute to the future of the betterment of the community: ourselves, the community, the nation, and the world. We believe in freedom of the mind and spirit and promote the health and well-being of gay, lesbian, bisexual and transgender persons to reach their potential.
###