Look at what a positive and uplifting impact "Christianity" has made in Tennessee …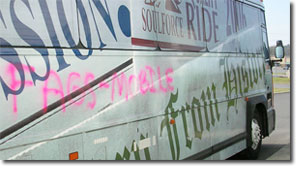 Soulforce's Equality Riders get a taste of Southern Hospitality!
---
(Cleveland, TN) – The Equality Ride bus was defaced Thursday evening outside the hotel where Riders were in a planning meeting for their action on Friday at Lee University. As the meeting dispersed, Riders found pink letters scrawled across the side of the bus reading "Fags Mobile." The bus driver reported that he witnessed a middle-aged woman and a teenager drive away from the scene, possibly a mother and son. The vandalism and suspect description were reported to Cleveland police, who are investigating the crime.
"The attack on the bus is hate speech, plain and simple, spelled out for everyone to read," said Jacob Reitan, Equality Ride co-director. "But a more subtle form of hate speech happens when students at the schools we are visiting are told they are sick and sinful just for being the lesbian, gay, bisexual and transgender people God made them to be."
---